As Nebraska volleyball attempts to make history vs. Florida, John Cook and the Huskers aren't done having fun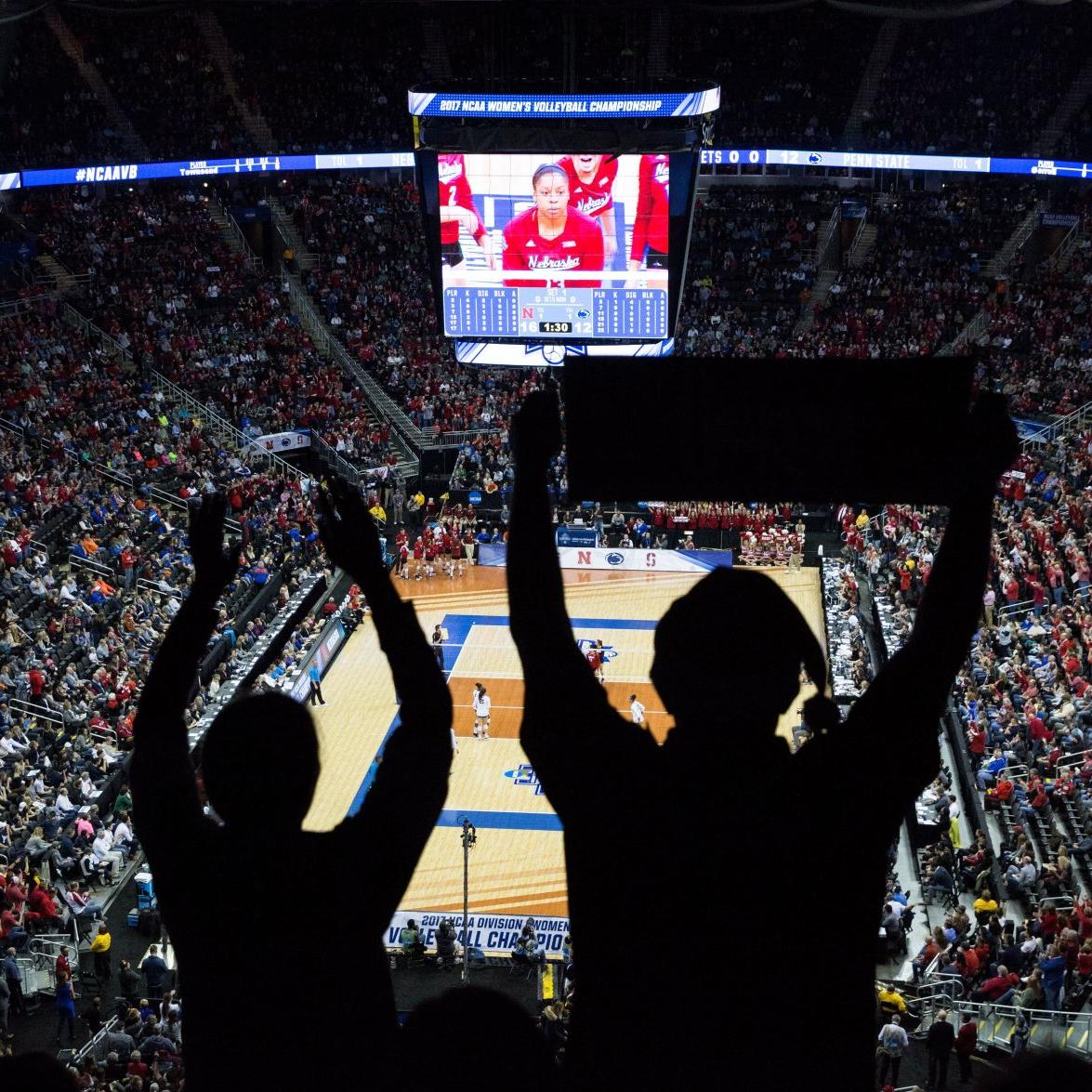 KANSAS CITY, Mo. — From locker room dancing to Halloween practice high jinks, John Cook from time to time will indulge the playfulness of his team.
The coach thought he'd thrown them another bone in Kansas City when he posed for a holiday portrait — the players crouched in front of a Christmas tree with Cook reclined at their feet, head propped on one arm.
Just when he thought the bit was done, his phone started lighting up. Senior Kelly Hunter had cropped Cook out of the photo and pasted his prone pose on other backgrounds. That's a new one, Cook thought, as the memes bounced around the team's group chat.
"There's always something going with these guys," Cook said. "It never ends."
The Huskers have yet to run out of ways to surprise their coach in one of the most memorable seasons in Cook's Hall of Fame career. He has coached teams with more talent and more populated with All-Americans, but when Nebraska (31-4) faces Florida (31-1) at 8 p.m. Saturday, the group that has exceeded all expectations will chase one final landmark, trying to become the first group in program history to win two NCAA titles in three seasons.
"Regardless of what happens in the finals, this team will go down as a legendary team in the chronicles of Nebraska volleyball history and Kelly will go down as one of the greatest setters ever to play at Nebraska," Cook said. "Those guys have done an amazing job, and like I said, they'll be legends.
"They'll be talking about this team for a long time."
Nebraska is playing for its fifth NCAA title, and Cook's fourth as coach, but no Husker has won more than one national championship. Six remain on the roster from Nebraska's 2015 title team: Seniors Hunter, Annika Albrecht and Sydney Townsend join juniors Mikaela Foecke and Kenzie Maloney in playing in a second national final. They join senior Briana Holman, who redshirted the 2015 season after transferring from LSU.
"Kelly and I were just talking about it the other day," Albrecht said. "It would be pretty cool to have four rings, two national championships and two Big Tens."
Standing in the Huskers' way is a Florida team shouldering its own bit of history as it seeks a first national championship for the program and for 27-year coach Mary Wise, who would become the first woman in the NCAA era to lead a national title team.
"This is a sport where male coaches do dominate, especially with championship teams," Florida's All-America middle blocker Rhamat Alhassan said. "To be able to (win Wise's first championship) in itself would be amazing. Just to create history at the University of Florida is another milestone that we really want to reach."
Wise took pains Friday to shift the spotlight off of herself and on to what the achievement would mean for the program. The Gators have won 23 SEC championships under Wise, including sharing this year's with Kentucky, but only once has Florida reached the season's final match, losing to USC in 2003.
Gator players understand that they will try to win their first NCAA championship on hostile ground, with the sheer number of Nebraska fans at the Sprint Center erasing any notion of a neutral floor. Wise has been bombarded with messages from other Florida coaches and former players. Team USA member Kelly Murphy, a former Florida All-American, gave a tearful sendoff as the team left Gainesville, telling them to capitalize on a moment other Gators never got to experience.
"The look on the players at that moment, and they realized it's really not just about us," Wise said. "We are carrying the Gator Nation with us through this run as well."
"I love that we're going to be playing in front of 16,000 Nebraska fans and we're going to have our little section of orange and blue that's going to be cheering us on," Florida libero Caroline Knop said. "That's all we need to be completely honest."
But the match will be played on the court, where both teams said Friday they expected the match to turn on who can create the best transition opportunities in long rallies. The advantage there went to Florida during the teams' first meeting on Aug. 26 in Gainesville.
With Hunter out injured, the Huskers took a season-high 193 swings but hit .155. Cook felt, even without the All-American from Papillion-La Vista South, the team had missed a golden chance and didn't disguise his feelings to the team afterward.
"We were right there, and I felt that we had a chance to win that and we backed off," Cook said. "I try not to get upset with our team, but sometimes you have to show fire when they didn't take advantage of their opportunity and go for it."
Nebraska hasn't missed many opportunities since, taking the country's longest active winning streak (18 matches) into the NCAA final. The next longest is Florida's streak, which now stands at 15 after the Gators beat Stanford in five games Thursday night.
To keep the Huskers from hitting against Florida's formidable block, led by the 6-foot-4 Alhassan who leads the country with 1.7 blocks per set, Nebraska's passers will need to get Hunter the ball in positions where she can spread out the offense. Against Penn State, four Huskers had at least 12 kills, led by 19 from Mikaela Foecke.
"She's a master at running a balanced attack; she has her whole career," Cook said. "Just it's a gift that setters have, the great setters have that. They just know; they have a feel. Every time you look at the stats, 'Wow, look how balanced we are.' She's one of the best we've had."
To achieve that kind of balance, there can't be ego, Cook said, whether it's from a setter who has a preferred hitter, or a hitter who pouts if they don't get enough sets.
"In the huddles we always are really good about moving on to the next play and taking a deep breath," senior Sydney Townsend said. "You can just tell everyone really cares about each other."
Look again at the Christmas tree picture. The Huskers flashing toothy grins while their Hall of Fame coach lays prone at their feet.
Maybe you'd be surprised that it's not Hunter's favorite photo of the weekend.
The senior broke a yearlong Twitter silence early Friday morning to post a picture of the team in a huddle on the court Thursday night. The Huskers, arms circling each other, are on the photo's left side, and on the right, the NCAA championship logo.
Perhaps the only one that could top it is one of them holding a trophy.
"Like I said in my tweet, I love this team, and this has probably been my favorite year since I've been here, of my five," Hunter said. "People like it, loved it. It's just one of those great pictures that you'll never forget."
Call Us
402-766-3776
800-ROOF-PRO